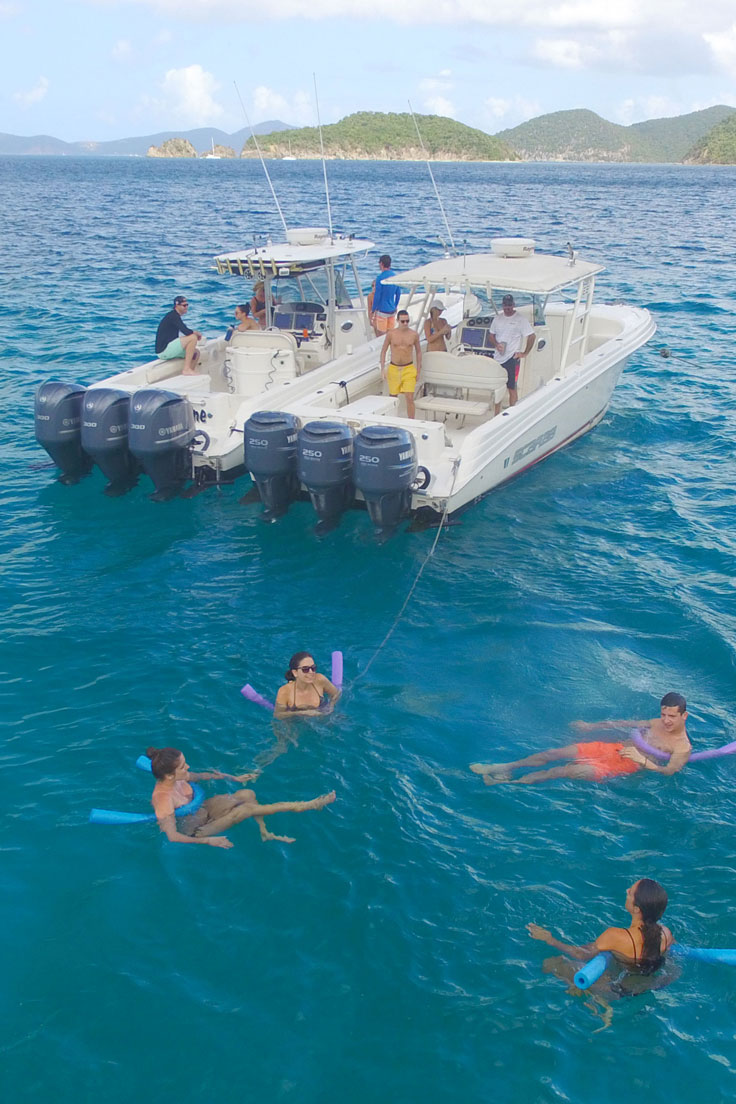 Private 35ft Boat Charter - Full Day
Overview
Sightsee on the different islands or relax on the spectacular white sand beaches that have made the U.S. and British Virgin Islands famous around the world. Slip into the warm, clear waters of the Caribbean for a day of snorkeling and swimming. Learn about the history of the islands and the beaches from our knowledgeable captains. Whether you prefer snorkeling and spending time on a secluded, deserted beach or partying and island-style fun, we provide all the options for a dream day in the Caribbean. Come aboard our 35-foot long charter boat for a day of water, sun, and fun! With our flexible and personalized boat charters, your experience is completely up to you! Your charter can stop at any point along the way for the perfect photo-op, and your captain is happy to snap a few shots of you and your friends and family while spending the day in the water or relaxing on the beach. Ask our captains about some of the boat-only accessible lunch spots such as Pizza Pi, Willy T's, Pirates Bight, and Abi Beach Bar. Grab your family for a day in the water, or bring your friends for some partying and drinks on the islands. Book now for an experience you and your guests will never forget!
Duration: 8 hours
Maximum Passengers: 12 people
Cost: $600 (for up to 8 passengers) / $35 for each additional passenger
Additional fees for captain and fuel apply. $60 customs fees per person (subject to change based on customs) apply for destinations in the British Virgin Islands.                                                           
Highlights
Enjoy a day of sightseeing or relaxation on any of the islands
Experience personalized service with customizable itineraries
Snorkel and swim in the warm, clear waters of the Caribbean
Sunbath and explore spectacular white sand beaches
Sightsee and learn the history of the islands and beaches
Dine on local island food and drinks available at renowned lunch spots
Visit some of the world's best beach bars
Make your way to each island for a different Caribbean experience
Enjoy friendly service from your knowledgeable captain
Book the perfect excursion for families, groups, and parties
Important Note: Don't Wait to Book!


Tours and activities in St. Thomas and St. John fill up quickly and often weeks or months in advance.  Don't wait and miss out on the fun!  Book now to reserve your space and avoid disappointments or last-minute scrambles. If you need to cancel for any reason, we'll give you a full refund on most tours as long as you cancel at least 24 to 48 hours in advance. Check the bottom of each tour or activity description for cancellation terms. We want you to enjoy the best of our beautiful islands, so make your reservation now!


Before You Book
Passports are required for all guests as well a $60 (Subject to Change based on Customs) in CASH only per person customs fee for entering the British Virgin Islands (not required if you choose to remain in the USVI waters)
Captain fee of $150 due when you board the boat
Fuel fees are not included in your booking fee and vary based on your itinerary
Fuel fees are usually $175-$275
Additional fees payable in cash or travelers check. Fuel fees can be paid with a credit card if the boat refuels at the end of the day
Charters meet at either the East End of Saga Haven Marina in  St. Thomas or the National Park Dock in Cruz Bay on St. John
You will receive a confirmation email with contact details to specify your departure point
Please bring any extra snacks, drinks, or food you wish to keep on the boat
We ask that you please do not wear any shoes while on the charter boat
Please apply sunscreen before boarding the boat and do not use spray sunscreens
Itinerary
Departure point: Saga Haven Marina East End, St. Thomas or the National Park Dock in Cruz Bay, St. John
Departure time: 8:30 AM
Duration: 8 hours
Return details: Same as departure
Important Information
Inclusions
8-hour day of boat transportation to the many islands and beaches
Ice and water available
Snorkel gear and instruction on proper usage
Storage system on the charter for personal belongings
iPod and stereo system for music during travel
Bench seating in the rear or open bow seating in the front of the boat
Exclusions
Additional fuel fees, captain fee, and customs fees not included
Fuel fees must be paid in cash or traveler's checks or can be paid by credit card if your charter refuels at the end of the day. Fuel charges are tracked by an on-board digital gauge
Gratuities for the captain not included in the price (15% to 20% of the cost of the boat plus captain fee is recommended)
Lunch not included
Additional Info
Our captain is fully licensed and certified by the U.S. Coast Guard to ensure safe handling of the boat and all passengers.
You will receive a confirmation email with contact details to specify your departure point.
Your captain will explain all of your options and help you finalize your preferred itinerary when you come aboard.
Cancellation Policy
All reservations are held via credit card. Reservations must be cancelled before 48 hours prior to the departure date in order to receive a refund. If a reservation is cancelled within 48 hours of the departure date or you do not show up for your scheduled charter, you will not get a refund. Due to the popularity of our charters, we recommended booking well in advance.